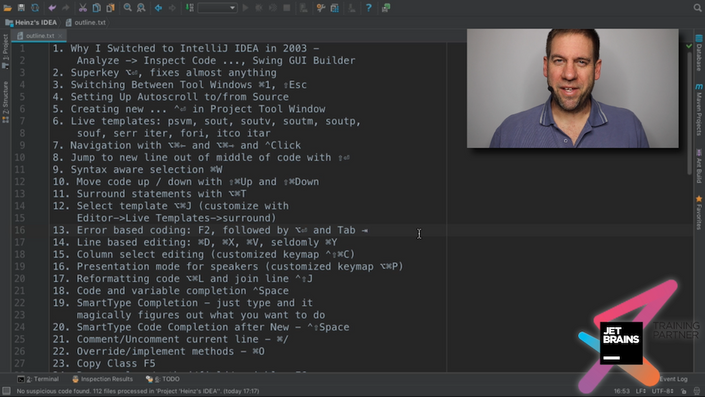 IntelliJ Wizardry with Heinz Kabutz
A bad workman always blames his tools
In 2003, Heinz was asked to fix bugs and add features to a bowl of spaghetti code. It was a dismal task. He had heard of IntelliJ IDEA's supernatural analyzing powers. At the end of his 30 day trial, he purchased his first IntelliJ license. Often after his talks, instead of asking about the topic he spoke about, curious onlookers wanted to know how he had performed his IntelliJ magic. Here are your answers.

Disclaimer: Cretesoft Limited, producers of this material and The Java Specialists' Newsletter are official training partners of JetBrains. All statements in this training material are based on our own experiences with the product over the last 14 years of almost daily use. This is uncommissioned work and is offered to the world to help Java programmers become more effective in their programming tasks. Remember: A bad workman always blames his tools.

© 2017 Heinz Kabutz - All material in this course is copyrighted by Heinz Kabutz - All rights reserved.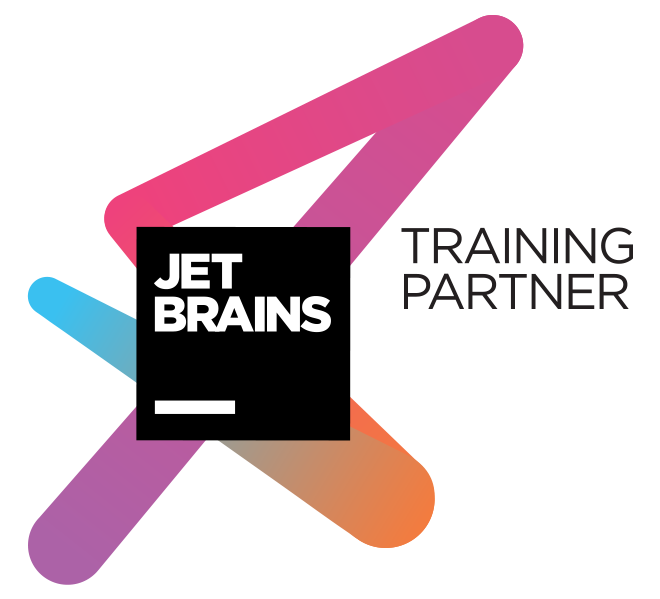 ---
Outline
Section 1 - So You've Installed IntelliJ IDEA Ultimate Edition ...
1. Why I Switched to IntelliJ IDEA in 2003
1a. Swing GUI Builder
2. Superkey Alt+Enter, Fixes Almost Anything
3. Switching Between Tool Windows
4. Setting Up Autoscroll To And From Source
5. Creating new ... With Control+Enter
6. Live Templates psvm, sout, soutv
7. Navigation with Arrows and Clicks
8. Jump To New Line Out Of Middle Of Code
9. Syntax Aware Selection
10. Move Code Up and Down
Section 2 - Now Quintuple Your Coding Speed
11. Surround Statements With
12. Select Live Template
13. Error Based Coding
14. Line Based Editing
15. Column Select Editing
16. Presentation Mode for Speakers
17. Reformatting Code
18. Code and Variable Completion
19. SmartType Completion
20. Comment and Uncomment Current Line
21. Override or Implement Methods
22. Copy Class
23. Rename Class, Method, Field, Variable
24. Move Class, Method or Field
25. Camel Prefix in Code Completion
Section 3 - Refactor Like a Boss
26. Refactor - Introduce Variable
27. Refactor - Extract Method
28. Refactor - Change Signature
29. Refactor - Inline
30. Refactor - Safe Delete
Section 4 - Inspector Clouseau At Your Service
31. Analyze -> Inspect Code
32. Inspect Code - Finding declarations that could be more "private"
33. Inspect Code - make parameters and local variables final
34. Inspect Code - Marking fields final
35. Inspect Code - Finding Unused Code
36. Local History
37. Inspect Code - Finding Badly Handled Exceptions
38. Inspect Code - Migrating to Newer Java Versions
39. Terminal
40. Conclusion
Enjoy!
© 2017 Heinz Kabutz - All Rights Reserved.
Your Instructor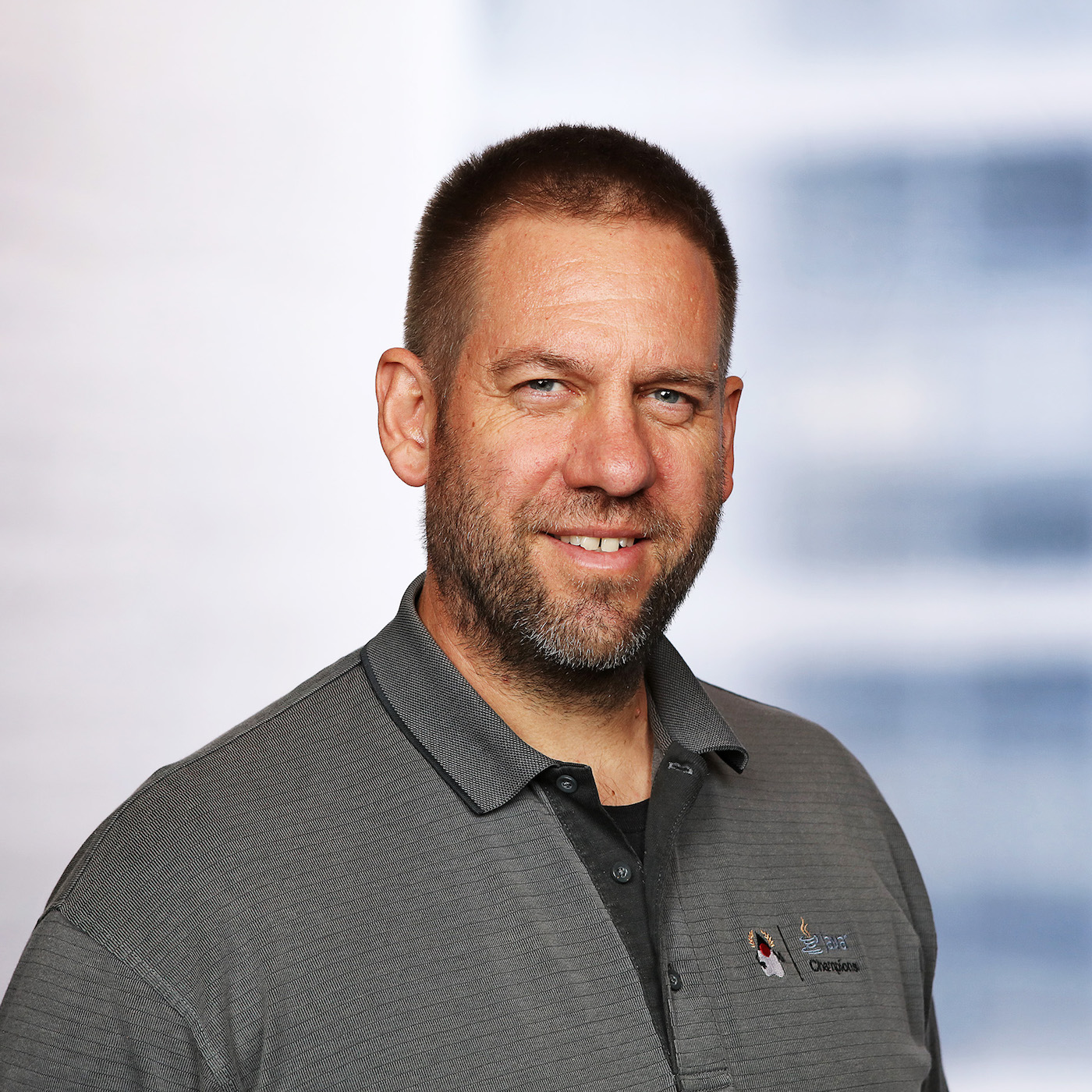 Frequently Asked Questions
How long do I have access to a fully paid course?
How does lifetime access sound? After enrolling, you have unlimited access to this course for as long as you like - across any and all devices you own. Furthermore, if we move to another platform, we will offer you a free transfer of your account for all the courses that you have purchased.
How many times can I cancel and rejoin a subscription course?
To prevent abuse, we limit the number of times that you can cancel and rejoin our subscription based courses to three times.
What is the difference between a subscription, paying in installments and an outright purchase?
With a subscription, you never own the rights to the material. If your card is declined or you cancel your subscription, you lose access to the course. The money you have paid so far is lost. Paying in installments is a bit better. You pay for 5 or 10 months and then once you have completed your installments you have lifetime access to the course. The safest is an outright purchase, where you pay the entire course in one amount. There is no risk of losing access.
Can I pay via PayPal?
Yes, you can for outright purchases, but not for recurring payments such as paying by installments or subscriptions.
Can I get an EU VAT Invoice?
May I share my login details with my colleagues?
May we use the course for running in-house courses?
What if I am unhappy with the course?
We would never want you to be unhappy! If you are unsatisfied with your purchase, contact us in the first 30 days and we will give you a full refund and deregister you from the course.
When does the course start and finish?
The course starts now and never ends! It is a completely self-paced online course - you decide when you start and when you finish. We do recommend putting time aside and setting goals to complete the course.
Can I watch the course offline during my commute?
This course is closed for enrollment.